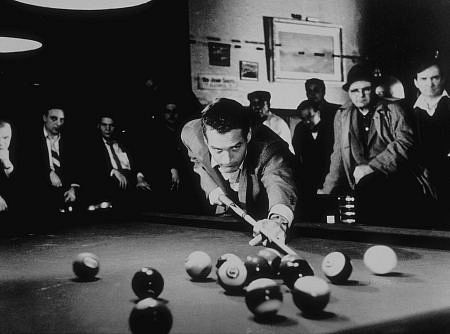 I am a lover of contemporary movies. Most of the time, I can't motivate myself to see anything that was made before 1970. But when my younger brother brought 'The Hustler" home from the local library, I decided to try it out, at least for 10 minutes or so. Then I got a great movie right between the eyes. It caught me off guard because I don't usually think of movies from the 1960's and earlier as on par with the films following that period. But "The Hustler" is on par and sometimes above the films of today.
Paul Newman plays "Fast" Eddie Felson, a young pool hustler trying to get the big bucks and, in the process, make a name for himself. He arrives in a small pool hall, partner in tow. They come under the guise of businessmen in town for a convention or something that businessmen go to when they go to towns. They drink lots of alcohol and play pool, you know, set up the con (or the hustle, I'm unsure of the correct terminology). Eddie seems drunk and eager to lose bets, so the pool hall yos are eager to win money from him. He, of course, is a hustler, so he makes the shot that he has been purposefully missing and therefore wins their money. And that sets up the title character. We learn from the scene what he is, who he is, and what he's all about.
Newman is absorbed into the character, giving a fully realized performance complete with cockiness, flawed habits, and cool. It's a defining performance, one of the classics that can start a career or cap it off, depending on the actor or actress. He is vunerable, tough, and all sorts of archetypes, but all in one package. It's a great performance.
Also delivering a stand-out performance was an actress I had never heard about, Piper Laurie. She was dynamite. I rarely had any idea what she was going to do next. She was an enigma. She played the love interest of Eddie, and it was easy to see why she would intrigue him. It's the kind of role that would be dynamite even today, but it was created way back when.
Eddie has a high stakes pool game with Minnesota Fats, the player with the highest profile of the pool world. The pool hall is his domain, and everybody but Eddie knows it. He thinks he owns the world, or the pool world equivalent. He comes into Minnesota Fats' stomping ground with a glint in his eye that blinds him to the odds stacked against him. He challenges the "fat man" and never lets go of the idea that he's going to beat him, or more accurately dethrone the king. It's a long series of games, leaving 24 hours plus of game time for the spectators to watch and the players to tire. It's a great fish bowl of drama. Everything in those 20 some odd minutes of film is contained in the small space surrounding the chosen pool table, but so much happens. The reactions and actions are amazing. All the actors put on a clinic.
The director knows how to capture the drama of the script. Everything is multi-layered and packed full of changing emotion. Robert Rossen directed from a screenplay he adapted from the book by Walter Tevis. I haven't read the book, but I am very impressed by the characters and the drama that unfolds. It's the very impressive work of a director I had never heard of.
The supporting cast is impeccible. George C. Scott is volatile as the worldly Bert Gordon, the man whose motives are always clear to everyone but Eddie. Scott is incredible. He says very little until the last two-thirds of the film, but every look, every glance is laced with timid emotion.
Jackie Gleeson plays his character with a similar subtle disposition. Everything he says has some other meaning attached to it. He's also very cool, very collected, assured.
"The Hustler" is a film about film that's not really all that about pool. It's about such profound concepts as pride, love, addiction, and what lies at the bottom of the barrel once you get there. It's a great film. However, I cannot recommend this to everyone due to the slow pace at which it tends to move. Some people will be bored with it. I was mesmerized.