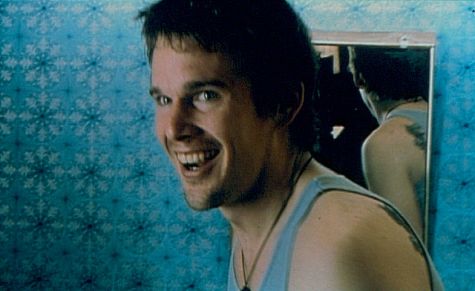 'Tape" is basically a filmed play, but the acting it contains from actors Ethan Hawke, Robert Sean Leonard, and Uma Thurman blows me out of the bath tub. Ethan Hawke particularly delivers a breath taking performance rife with bravado. But the subtle glances and reactions he infuses into the character of Vince are what make it a brilliant performance.
If you're not interested in paying attention or putting work into getting a film, you might want to stop reading here and go see "The Italian Job" instead. But if you want to witness something special and unique, see 'The Matrix: Reloaded." Look, I know you thought I was going to say "see 'Tape,' but it's not all that unique or special. Director Richard Linklater has made comparable films before. If you liked those ("Waking Life," "SubUrbia," "Before Sunrise"), there's a grand chance you'll love "Tape." I think it's a "love or hate" movie, so go in expecting to leave with one of those emotions. You've been warned.
Linklater did not write the film, but the good news is there's still plenty of quality dialogue and philosophy. And, like Linklater films, I still don't get all of the philosophy. Stephen Belber adapted the screenplay from his own play, and he is a writing talent to watch (but really only for you readers who actually watch writing talents).
The story is pretty simple. Jon Salter is in Lansing, MI to attend the premiere of a film he was in (directed, wrote?). His high school buddy (best friend?), volunteer firefighter, part-time drug dealer/user, and full-time disappointment Vince, is in town to meet up with Jon and (maybe) see the movie. Vince holds something against Jon, and me telling you what would detract from your movie viewing experience. Many critics are fully prepared to do things like that (as are trailers), but I refuse to be one of them. I can tell you that it involves a shared high school girlfriend. Uma Thurman plays Amy, an assistant D.A.. It's from this conflict that the movie derives any action or meaning from.
I say "action" tentatively because the film is essentially made up of conversations, maybe one conversation, depending on who you ask. Nobody gets punched or kicked...or even blown up. You see, the film is really a human drama film, so if you wanted to see something else, check my other reviews.
I say "meaning" with the assurance of someone who is sure. The film's meaning and, in a more general sense, relationship truths are the key attractions that go along with the amazing acting.
Uma is famous, maybe the most famous of the cast. She was in "Pulp Fiction," "The Avengers" (sorry for mentioning it to all of you who swore off acknowledging it), and "Batman and Robin" (again, sorry). But she's not "Uma" persay in the film. She tries something different, at least from the work I have seen her in. She's a woman who refuses to be a victim. Of what, you'll just have to see. She's a professional-type, a far cry from her "Pulp Fiction" role from which she is best known. The change is good and accentuates the woirk of the other two actors.
Ethan Hawke is a name you know. I know you know him, but nobody thinks he's a star. He doesn't want to be. He takes roles in Hollywood movies, but name one role that coinstitutes a "star" role. Yes, he was in "Training Day," but Denzel was the star and the media focus of the film. Yep, he was in "Dead Poets Society," but you probably didn't realize it. Even if you did, there's no arguing that Robin Williams was the "star" of the film. Yes, he was the "star" of Disney's "White Fang" way back when, but be honest, would you have remembered if I hadn't said anything? Instead, he has a following in independent films like "Tape." It's probably because he realizes a great deal of the good parts in the movie industry exist outside the studio system. He's one of the great actors of his generation, and certainly the most underrated. Check out him acting prowess in "Tape." Compare it with everything else you have seen him in and you will be a fan too.
Robert Sean Leonard is the one you've never heard of, but he's a true talent as well. To be honest, I have only seen him in "Tape," "Dead Poets Society," "Swing Kids," and a very good Hallmark film called "The Boys Next Door." But he was a natural in each role and remains an underrated talent in the industry. His character changes the most in "Tape," or perhaps most noticably. Hawke has the showiest part, and he goes on to steal every scene he's in, but Leonard is remarkable in his own right. What ever we think we know about his character in the beginning of the film is far from where Leonard takes us in the end.
In short, Linklater delivers another diamond in the rough. But it's the rough many people won't mind ignoring.