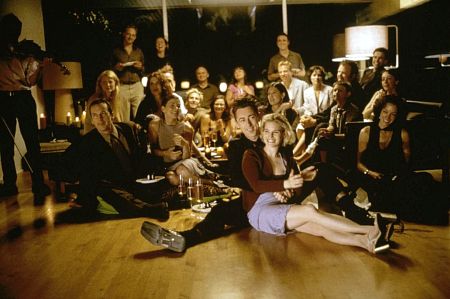 There's something to be said for a film that unravels slowly and in a different direction that you had predicted at the film's outset. The ability to reveal something unexpected is rare these days. When I find a film that accomplishes this modest feat, it latches onto me. The freshness of what I'm seeing makes me yearn for more surprises, new developments. Sometimes a film can capitalize on the promise it displays at the point of surprise; other times the ball is dropped and I am left wanting. "The Anniversary Party" left me somewhere in between.
Actors Alan Cumming and Jennifer Jason Leigh wrote, directed, and starred in "The Anniversary Party" with their famous friends and their famous faces. Everybody in the cast is linked together through past work with one of the other castmates, making the atmospere close and deeply personal. Everybody lays it out on the line. Clothes are tossed aside. Drugs are experimented. Language is thrown around without the slightest inkling of guilt. It's a glance into the lives of the rich and famous, and their rich and famous friends.
The film opens on Joe and Sally, recently reunited married couple and celebrities living in the lap of luxury. Whatever we think we learn about the trials and errors of the couple, even the seemingly intimate knowledge of their attempt at conceiving a child, soon fades into the flashier climax of secrets revealed over screaming and slapping. We learn that they love each other, but in the strange kind of Hollywood way that we laymen only view from afar. They hold each other tightly and gaze into each other's eyes, but then they're off "dissing" one another with their prospective best friends. Love brought them back together...or...did...it?
They are having a anniversary party at their extravagant home and they invited a who's who of the fake Hollywood scene. Joe's an novelist trying to bring his latest novel to the big screen, so he's got well wishers and a hot young actress, the cleverly named Skye Davidson (Gwyenth Paltrow), over for the shindig. Sally's an actress of relative acclaim who's in the midst of a new film directed by Mac Forsyth (John C. Riley) and co-starring Oscar-winning actor Cal Gold. Each bring their spouses and easy-living spirits. Since the role in Joe's movie apparently was based on Sally, there's a small, hush-hush movement for Sally to overthrow the studio's choice, Skye. And there's more, much more.
There's uptight, enemy neighbors (Mina Badie and Denis O'Hare). A talent agent was invited. A dog gets lost. A humorous nerd (Michael Panes) woos Skye.
Like many other slow-moving character studies, the action is slow and deliberate. Nothing appears adlibbed, every movement is played for maximum effect. The question is whether the characters that we have to spend so much time with are fascinating or simply unlikable, spoiled celebrities that the common man (an woman) can't possibly relate to. The film splits the difference.
Despite the many flaws of the two leads, I found myself pulling for them. I felt the sting of all the hurtful things they said to each other. This can be attributed to the utterly believable dialogue and acting from the two talented leads. They bend and fold with each new dimension, but they never break the film's reality.
Ultimately, however, the film stumbles into an ending. Whether this was an intentional device employed by the stars, I cannot be certain, but I wanted more. I needed to know what happened to these two fragile lovers. So the films fault is also its obvious strength. Incredible acting, subtle direction, sharp dialogue. All wrapped up in an indie wrapper. Enjoy.