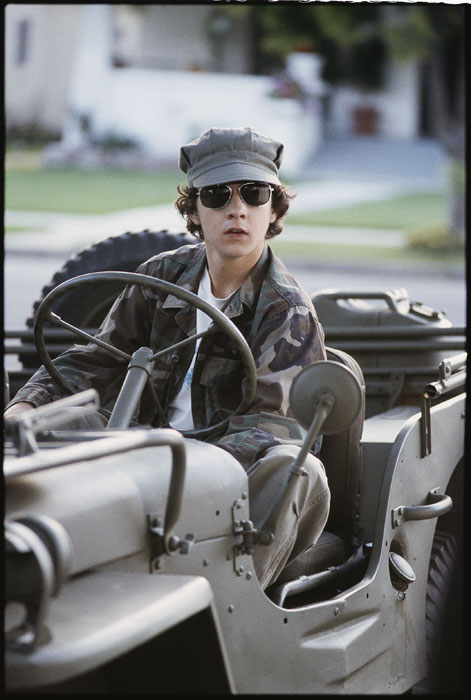 SHIA LEBEOUF RIDES HOME IN STYLE.
Shia LeBeouf has been blessed with an unforgetable name. Pretty soon, you might just find it important to know. Shia is the lead in the latest installment of the Project Greenlight's winning script. That script soon became "The Battle of Shaker Heights." Chances are, you won't feel the need to see it until it appears on video rental shelves. That's a shame, because LeBeouf's uncanny charisma is something you've got to see.
This was the first film for the writer and the directors, and at times, it shows. But what also is immently clear is that this film was done with the passion filmmaking thrives off of.
The witty script comes courtesy of Erica Beeney, and it shows a flair for the sarcasm and angst most real teenagers resite with ease. Her protagonist is Kelly Ernswiler, a seventeen year old smart alec who reinacts World War II battles on the weekends and keeps the act going in between. He lives in a modest house with his mother and father. His mom (Kathleen Quinlan of "Apollo 13" fame) is an artist who runs an immigrant labored assembly line for cheap paintings. His father (William Sadler from "The Shawshank Redemption") is a recovering drug addict, who, in a drug induced binge, wasted Kelly's college fund on some primo narcotics.
Like most teenagers, Kelly is distant from his family, especially his father. He comes home from his simulated battles, eats a sandwich with little conversation in between. Then he's off to his job as an employee of one of your stereotypical small grocery stores. His cute coworker (Shiri Appleby) has obvious feelings for him, but he's got a love jones for one of his fellow battle reinactor and friend's (Elden Henson) sister (Amy Smart). She's older and artistic and gorgeous and everything Kelly thinks he wants. It's this triangle that entwines the film. There are other plot devices, mainly with his folks, but they all run secondary to Kelly's love life.
And that's not so bad. Sure, teen centered films almost always center on a love story, but it works in "The Battle of Shaker Heights." The epiphanies that Kelly experiences seem true and aren't overly sentimental like most films of the genre. He comes to them logically and sympathetically. We, as the audience, do actually care what happens to Kelly.
Sometimes, the action plays out with a certain corniess that shows the talent behind the camera's inexperience. Still, LeBeouf is always right there to win you back. His handle for the humor the film flaunts is enviable. LeBeouf infuses Kelly with an undeniable charm, complete with boyish awkwardness and sharp dialogue. Whatever faults the film has, they're overshadowed by the winning performance from the young actor. If you've got the sense of humor that thrives off of sarcasm much like the film does, you owe it to yourself to check "The Battle of Shaker Heights" out. In this reviewer's opinion, it's definitely worth it.