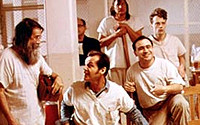 "One Flew Over the Cuckoo's Nest" rocks in so many ways, my friend. Get excited about the acting. Get excited about the story. Get excited about watching an outstanding movie.
Jack Nicholson gives his best performance and a true 70's staple. His turn as R.P. McMurphy can go down on your list (and your mom's list) as one of the all time greats. Nicholson gives real emotions throughout, as though he is biologically incapable of faking anything.
Also at the forefront of this film is a great ensemble cast. All the loons in the hospital are fantastic and ultra-believable, particularly the late Sydney Lassick as Cheswick.
Everything about this movie screams at the top of its lungs "CLASSIC!!!"
CLICK ON A LINK FOR MORE "One Flew Over the Cuckoo's Nest"
"One Flew Over the Cuckoo's Nest" on IMDB.com