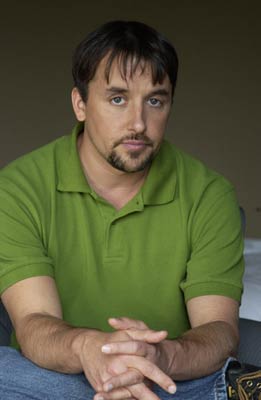 It's hard to make a director one of the members of my "People you Should Know" page because most directors are either so successful that you know them or have only had one or two good films that served as high points in a career falling fast. Richard Linklater is an exception. He's one of the best directors you've never heard of. Maybe you've heard of one of his films, but very few people have embraced the man as a unique voice in the movie industry. That is not to say that he has not developed a following. His supporters are loyal and adamant about their hero. But his fan base can grow, so I will do my best to interest those who have not cared quite enough to embrace his body of work.
It's hard to say what film of Linklater's is my favorite, but I can say which one of his films is my least favorite without applying too much effort, which is one of my goals in life. "Dazed and Confused," the director's tip of the hat to adolescence and the 70's, is a really good film, but I did not connect with it as much as others are sure to. First, my adolescence was not a stone throw away from the ones depicted in the movie. I was not a drinker in high school. I wasn't one to enjoy a good smoke of the ole' marajuana. I was not known to employ coarse language as a tool in my conversations. And, well, I wasn't even alive in any part of the 70's. The 70's is my favorite decade to read about, particularly the coming of age genre. "Dazed and Confused" is not really a coming of age film, although some aspects of it are and others would say it is completely. It is more of a slice of life movie. It features supporting performances that are spectacular, particularly those of Adam Goldberg and Matthew McConaughey, neither of which are anything more than supporting characters. Wiley Wiggens and Jason London are the central characters, having the movie's plot revolve around them. They are also the weakest actors in a crop of mostly fantastic actors. It is these performances (those of Wiggens and London), that keep the film from being great.
He has made great films. Several ones actually. In order of release, "Before Sunrise" is the first. It is the story of a chance meeting of an American man and a French woman on a train. Ethan Hawke plays Jess, the American sporting a goatee and a knack for philosophical dialogue. Julie Deply plays Celine, the Frenchwoman who also can hold her own in a good philosophical conversation. They strike up a conversation and a connection is made. When it comes time for Jess to get off the train, he feels that the connection is too genuine to be severed at that point, so he convinces Celine to walk around Vienna for one night before his train to his next destination arrives in the early morning. They spend the evening and night engaged in deep conversations that only part-time philosophers or generation Xers could. It is these conversations and the dialogue between them and other night dwellers that make up the plot. They get to know each other, much more, we get the idea, than maybe anyone else ever has. Kindred spirits connect and it's a beautiful thing. Along with "Punch Drunk Love," it is the only movie that has ever made me ever want to fall in love.
"SubUrbia" is Linklater's film from Eric Bogosian's screenplay based on his own play. The films captures one night in the lives of a group of aimless twenty somethings. Giovanni Ribisi plays Jeff, the main character in an ensemble that includes Steve Zahn, Nicky Katt, and Parker Posey. Each actor and actress gives a dynamite performance in unique and clever roles. Ribisi, Zahn, Katt, Amie Carey, and Dina Spybey are small town losers with the same aimlessness and cynicism that is often attributed to generation X. They each work dead end jobs or rake in checks from the military they barely served in. But the characters are not without opinions, and it is these opinions and sometimes the lack thereof that drives the film. The dialogue is clever and the characters are quirky, but not so much that the viewer cannot identify with at least one of them. They wait outside a 7-elevenish store for a high school classmate turned rockstar named Pony to return. The disdain and subtle envy Jeff feels for the classmate is the best characteristic of the film. It best captures the duality of the twenty something psyche that many films love to ignore.
But Linklater also wrote another great movie, "Waking Life." It is visually amazing and wholly original except for the heavy dialogue and philosophical musings that he borrowed from his own films. The films details the dreams of Wiley Wiggens, who, as the unnamed main character, engages in philosophical conversations and observations with characters both real and actors. The ensemble cast includes Ethan Hawke, Adam Goldberg, Nicky Katt, and Linklater himself in a really good role. I was impressed at his acting ability although he was essentially just rambling. The film is a breath of fresh air into the film medium.
Linklater is a fresh voice in the dry wasteland that Hollywood has become. If you get tired of all the conventional approaches most directors take and want to experience something new, try Linklater out. He's a great director. I look forward to checking out another one of his films, "Tape," soon.
Recommended Richard Linklater films:
SubUrbia
Waking Life
Dazed and Confused
Before Sunrise