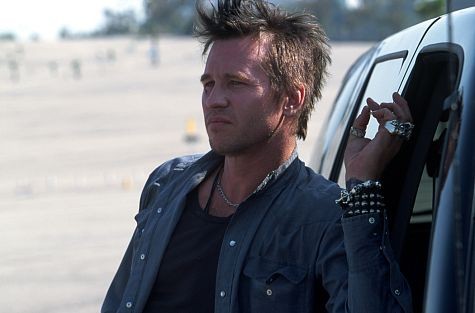 It's difficult to do anything innovative with the film noir genre. It's hard to make a film involving noirish elements that's not derivitive of all the other movies in the vast film noir history. So, taking this into consideration, "The Salton Sea" is all the more impressive. Sure, it follows the path set by other modern film noir pictures, but it's also highly original in its approach to its converging genres. Besides film noir, it also belongs in the "undercover cop in over his head" sub-genre. Add the "vengeful husband looking for his own brand of justice" sub-genre and you've got a melting pot of storytelling techniques. Stir in a who's who cast of character actors playing off kilter characters and you've got something special.
Val Kilmer ("Tombstone," "Top Gun," "Batman Forever") plays Danny Parker and Tom Van Allen, which one he is at the moment escapes him, as he tells in the opening narration. He is playing a trumpet while flames engulf the room around him. It's freaky and kind of unexpected, especially when the opening narrative is more cryptic than informative. But, like most good pieces of the genre, the script is aware that too much too soon can ruin a good story. So, we are introduced into the world Danny Parker has immesed himself in, that of the "tweaker." A "tweaker," as we find out through visuals and Kilmer's narration, is a crystal meth ethusiast/heavy user.
There are several plot twists and expostition devices that can help you understand the plot and make you want to see the movie, but I am wary of mentioning them even though they are mentioned on the back of the video. Let's just go at this in a general, basic sort of offensive.
Danny Parker/Tom Van Allen/Who Knows[?] has inserted himself into the underground tweaker culture in hopes of finding the men who murdered his wife. He was the trumpet playing Tom Van Allen prior to the tragedy, but that part of him died when he embraced the tweaker way of life, even resorting to large body tatoos and body piercings. Tom Van Allen could not watch himself lose himself, so he became Danny Parker because he needed an alias and, presumably, because it's a cooler name. That's the gist of the plot without giving away the twists and turns, of which there are many.
The film dances around time in a manner similar to that of "Memento," although it stays away from the reverse chronology concept. The visuals are gritty and bleached so that everything appears as though its shadows are about to swallow its light. It's a nice visual approach to such a unusual film.
But the real revelation is that Val Kilmer has not forgotten how to act, or for you skeptics, found a way to act. Kilmer is best utilized as a rememberable sidekick or playful nemesis ("Tombstone" and "Top Gun"), rather than the leading man roles he often mistakenly takes at the behest of his ego. As Danny Parker/ Tom Van Allen, he shines in a kind of subdued cool role. He doesn't have the catch phrases and nicknames of past roles to fall back on, so he just has to draw it out naturally. Many may say Kilmer drawing cool out from himself is like trying to draw blood from a stone, but he's actually quite cool. It's one of those roles that can turn around a career headed to the straight to video sections of your local video rental establishment.
To make you happy, the viewer is treated to several crazy characters, mainly that of Pooh Bear (expert character actor Vincent D'Onofrio). Also rounding out the cast are Luis Guzman, Deborah Kara Unger, Peter Sarsgaard, B.D. Wong, Anthony LaPaglia, Doug Hutchison, and Adam Goldberg. I realize the list of names by no means constitutes the stars you wanted to see in some movie, but they are all highly talented actors and will not disappoint you.
The best thing about "The Slaton Sea" is that, just when you think you know what kind of movie it is, something surprises you. The only problem is a lack of control that director D.J. Caruso exhibits in certain scenes. His attention span isn't quite as short as Michael Bay's, but he does give you the impression that maybe he could have captured some shots with more direction, perhaps more definition. Alas, it still is a fine film with a nose for something new.