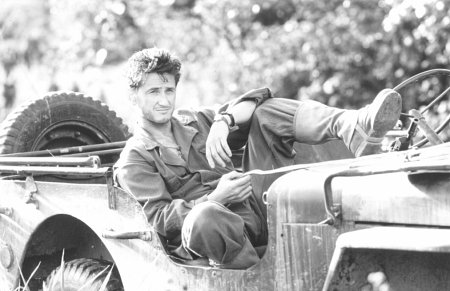 When "The Thin Red Line" opened in 1998, it came after the enormous success of the year's top grosser, "Saving Private Ryan." While "Line" was nominated for seven Academy Awards, including Best Picture and Best Director, it got lost in the crowd. It failed to recoup its fifty-two million dollar budget and earned a poor reputation among casual moviegoers as being "too long" or "boring." Well, it's not. It happens to be one of the greatest war films I have ever seen and a true marvel to look at.
The film opens quite unexpectedly on the faces of natives of the Guadalcanal. They swim, they work, they play. It seems out of place until we see James Caviezel swimming with native children. Apparently, Caviezel's character, Private Witt, went AWOL from the army when he grew tired of World War II. A patrol ship finds him and he is reinstated as a stretcher bearer by Sergent Welsh, brilliantly played by Sean Penn.
Nick Nolte plays Lt. Colonel Tall, who, as we learn in several of the film's numerous voice overs, is silently making moves to move ahead in command. He bitches about kissing the butts of his superiors. He exhibits gruff, but personable people skills until he meets resistence.
Elias Koteas, whom I will always remember as Casey Jones in the first Teenage Mutant Ninja Turtles movie, plays Captain Staros, the man directly under Nolte and his eyes and ears in the thick of the battle. While the viewer is led to view Staros as somewhat a coward, his actions prove to be otherwise.
The cast is one of the best ever assembled. Besides Koteas, Penn, Nolte, and Caviezel, the cast includes John C. Reilly, recent Best Actor Oscar winner Adrien Brody, Nick Stahl (of this summer's "T3: Rise of the Machines"), Ben Chaplin, Jared Leto, Tim Blake Nelson, George Clooney and John Travolts (both only briefly), John Cusack, Woody Harrelson, John Savage, Dash Mihok ("Romeo+Juliet," "Basic"), and Thomas Jane. It's a credit to the director and the material that such a high caliber was willing to get down and dirty.
The acting by the large ensemble is fantastic, particularly that of Caviezel and Penn. Caviezel bore a southern twang for the role and it sounded more natural than his real voice. His laid back approach and earnestness make the character a memorable one in a sea of more notable actors. Penn plays Sergent Welsh with great subtlety and precise nuances. It's one of his best roles, and he's had some good ones.
I did get the sense that Nolte was over acting at times, mostly when he was called upon to yell. His face flushed red and his numerous wrinkles constricted until his skin was eerily taut. He used a yelling, gravely voice to reach high decibels that fluctuated with ever single word between incredibly loud and unbearably loud. The scenes in which he employs this method are the movie's only true downfall.
The real treasure is the cinematography, which easily rivals that of "Saving Private Ryan" despite the starkly contrasting styles. While "Ryan" is noted for its amazing "on the beach" shaking, split second-reacting camera work, "Line" prefers fixed postions and beautiful landscapes.
I haven't seen any of Terrence Malick's other work, but I do know that it is the mark of a gifted director that he could handle such a large cast with amazing ease.
"Saving Private Ryan" got the accolades, but it's time for "The Thin Red Line" to find its audience on DVD and VHS. It deserves one.